Tuesday, November 30, 2010
Influences this week: Snow, snow, snow, snow! (It's snowing while I write this.), hot liquid caffeine usually in the form of cappuccino, and Kevin Matisyn's
Eclipsed
.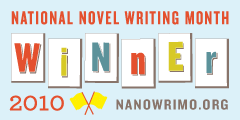 Congrats to our very own DRD for becoming a winner of the 2010 National Novel Writing Month, or NaNo. It took a lot of grit, determination, and steady hours of fingers to the keyboard, but you did it! I'm so proud of you DRD!!


I spent last month writing. I started out writing what I thought was to be the first of Kiki's three book series. The first scene was really vivid in my mind. She wakes up to three goons hovering over her bed just before dawn. Kiki is used to trouble. Tory, her best friend, has a saying about Kiki. "Trouble follows you." Incidentally, my BFF says this about me. Even bought me a shirt with it blazoned across the front of it.
The goons are just delivering a message. Kiki is not who the boss wants. Someone important to Kiki's past is who the boss wants. Her husband. The last time Kiki saw her husband- after he shot her father. Not exactly on speaking terms, you see.
But how did I get to that point?
I'm not quite sure.
I wrote quite a bit more. All the way to another of my favorite very vivid mental scenes. The confrontation.
"What's in it for me?"
"A divorce."
Excellent motivation if you ask me. I'd dance with the devil for a chance like that. Kiki says about that much as well. Unlikely partners with unlikely motivation. My favorite type of writing.
The next thing I saw was how her sisters were kidnapped. That was a dream. The kind of dream you wake up in a cold sweat and not quite sure what the hell happened. This is also the kind of dream you can kick the ass of your chosen bedmate and not realize it until they are screaming at you for kicking them in the ribs because it really really hurts.
So then I wrote the scene of how Kiki finds out the twins are missing. And I go from there and realize there is an entire book before the one I started out in. In one week Kiki realizes her life is one big lie surrounded by millions of tiny white ones. It was so incredible to watch play out in my mind. And like Terri said yesterday, nothing is as great as what you see the first time in your mind as you're writing it. My job is to do a good enough job to make you visualize what I saw, continue to see as I'm writing. All these questions started coming up in my mind, the plot bunnies fornicated and multiplied at alarming rates until I thought I might lose control.
So while I didn't hit THE END on my novel by the end of November, like planned, it doesn't mean the whole month was a waste. In this case, the scenic route helped me, as the writer, better understand my character and the path she's on. I like to think this is helping me create a better novel for you to read and make me a better crafter.
Does anyone else have a problem with plot bunnies? Those suckers will dry hump just about anything. Especially blank pages. What happened to you in the month of November? Did you write, read, shop, gab, jab, climb a tree, marry a lumberjack, kiss a sailor? Let's make up great stories about our month to relieve some of the stress of the upcoming holidays. Or just tangent. I like tangents.