Sunday, November 7, 2010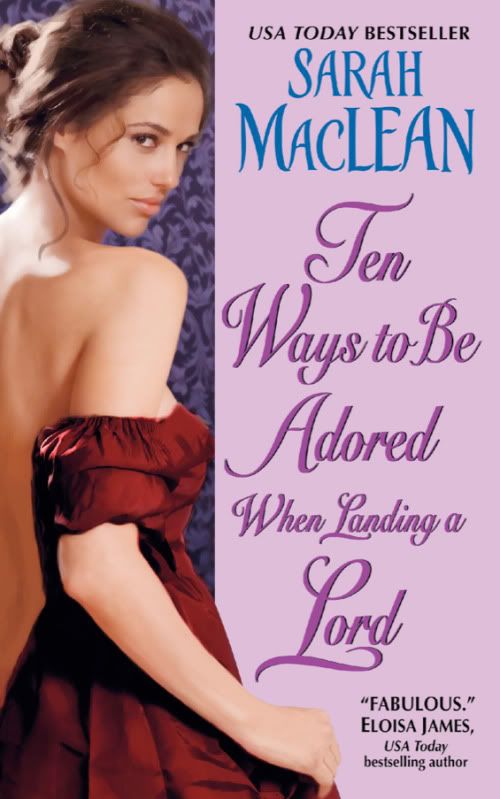 CONFESSION #1: I was sent Sarah Maclean's newest novel to review. I got it for FREE with the understanding I would review it on the blog.
CONFESSION #2: I had already
pre-ordered
Sarah Maclean's newest novel when I was offered a free copy of the book to review. Which I leaped on because I'd get the book sooner. Oh, and I didn't cancel my order because it never hurts to have a spare copy of a great book. You see I adored Nine Rules to Break When Romancing a Rake--are these great titles or what?
So with those two confessions in mind, yes, I did get the book free, but yes, you will get my biased, but utterly honest opinion. Whether you run out and buy the novel is totally up to you. (Subliminal voice: BUYIT.)
When I started hearing the buzz about Sarah Maclean, I was skeptical. I'm not a bandwagon girl; I didn't immediately leap onto the Harry Potter train, nor will I read some of the industry favorites like—well, that's too appalling to confess. Just think of some of the MUST READ authors you know and I haven't read them.
And God knows we've all heard my opinions about history and the historical. A debut author pretty much has one chance with me to either a) be historically accurate enough to impress me to keep reading or b) be so compelling with her story, voice, and characters that a UFO could land in the middle of her tea party and I wouldn't bat an eye.
Sarah Maclean is such an author. Yes, yes, even to my exacting standards. I know it is hard to believe. Now while I'd say on the whole, Sarah does try to be historically accurate, I'd say she falls into the latter category. She pushes some boundaries and you find yourself letting yourself go along with the fantasy. You want to believe her characters could have existed and behaved just exactly as they did.
In
Ten Ways to be Adored When Landing a Lord
, I was enchanted by the 1930s screwball comedy feel of the hero and heroine. Actually it felt like I was reading Katherine Hepburn do a Regency, because pretty much everything about the heroine seemed very Katherine Hepburn to me. Beautiful, smiling, doing exactly as she wants and as she needs to, Isabel Townsend is feisty enough to satisfy the modern reader, while being constrained enough to satisfy old-school readers like me.
The hero, Nicholas St. John, has just been named THE bachelor to land by some rag magazine—which is ingenious and tidbits of the articles begin some of the chapters. They're witty, ironic, and hysterical. I want to subscribe to Pearls and Pelisses. Nick has gone into hiding—and also gone on the hunt for a friend's runaway sister. Of course, he meets the untamable Miss Townsend and the lies and deceit and screwball begins. The banter flies between them—absolute perfection.
Isabel is the kind of heroine you can root for; and Nick is definitely the kind of hero we love to swoon over.
BLURB:
"Lord Nicholas is a paragon of manhood. And his eyes, Dear Reader! So blue!"
Pearls & Pelisses, June 1823

Since being named on of London's "Lords to Land" by a popular ladies' magazine, Nicholas St. John has been relentlessly pursued by every matrimony-minded female in the ton. So when an opportunity to escape fashionable society presents itself, he eagerly jumps—only to land in the path of the most determined, damnably delicious woman he's ever met! The daughter of a titled wastrel,

Lady Isabel Townsend has too many secrets and too little money. Though used to taking care of herself quite handily, her father's recent passing has left Isabel at sea and in need of outside help to protect her young brother's birthright. The sinfully handsome, eminently eligible Lord Nicholas could be the very salvation she seeks.

But the lady must be wary and not do anything reckless…like falling madly, passionately in love.
POTENTIAL SPOILERS: don't read on if you don't want to know my specific beef with the book. If I have one complaint—and would I be me if I didn't?—it would be the black moment. I absolutely wanted to shake Isabel, which in and of itself is not a bad thing, because she definitely stayed in character, but the black moment didn't feel…logical, per se.  Then again, people aren't always logical and they do let their fears rule them—so maybe Isabel's behavior was logical. But even if it was, I wish Nick had made her grovel more—and he didn't! Granted, maybe when you love someone, you don't make them grovel. I will let you make your own decisions about the black moment and the HEA. We all know I don't forgive easily. SPOILERS OVER.
My one quibble aside, it was a delightful read and I can't wait for Sarah Maclean's next book. Her novels are the kind of warm and witty book you can sink into a bathtub with and not worry. And they're the kind of warm and witty book that you will run off to the bathtub just to have a chance to read it. It's worth every stolen moment to read it.
What books have you read lately that have been worth every stolen moment? If you haven't been reading (because you've been writing, working, et al), what have you been wishing you could sneak away and read?