Saturday, June 19, 2010
Today is a special day on the ship. I asked if some of the pirates of the RWR would be willing to share stories of real daddies who have made us the pirates we are today. You could talk about celeb daddies who have inspired you, or your own father or dear husband.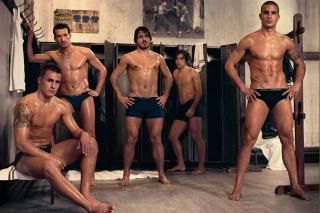 *No hotties dripping in sweat, minus their clothes and a blatant look in their eye as they look upon you. Sorry. We'll be back to that next Sunday.* *blinking* Oooh. I dunno HOW that got here. hehehehehe Hello hotties, I think all five of you will do for my new harem.

Santa:
"Celebrity Dad: Hugh  Jackman. I think there's a pic of him at the beach with his daughter. Adorable. Abs on him aren't too bad either!"
"My Dad: My father was a bear of a man who was gruff on the outside but with a teddy bear soul. He's gone almost fifteen years now but I still can feel the palm of his hand as he would cup my check and call me his 'Sandarella'.  He considered himself a guide for the young guys just starting out who delivered product to us. He never turned down a kid starting out in the business who he thought should be given a shot. They don't make him like that anymore."
"My Darling Husband is a marvelous father to our kids. He had a marvelous model in his own father who was a kind, giving giant of a man. My kids' father greets his daughters with a 'Hello, beautiful.' every morning and a resounding 'What's up, buddy?' to our son. My eldest is at an age where hugs are not given as freely as they once were but I tell him to hold steady. It'll be cool to be hugged and kissed by your dad....just in time for our youngest to scoot away."
J Perry Stone:
"Celeb:  Will Smith.  He shows his children the fabulous example of putting his marriage first.  This makes great up and coming husbands as well as up and coming wives who learn not to settle for anything less from their men."
"My dad:  At nearly 70, my dad is still 16.  There isn't anything he won't try.  Today he tried to master one of those sand-skimmer boards that glides along shallow surf.  At 6'2" the board doesn't really skim when he jumps on it.  He came limping back to the chairs with sand in his beard and blood on his knee.   And laughing.  What's more, my dad is a renaissance man.  He can conduct a full orchestra and choir (which he did for 30 years), build houses and cars, and laugh at fart jokes while wearing a full tux with tails."
"My husband:  He listens, he never repeats mistakes, he puts the kids to bed every night (checking teeth and reading stories), he always keeps his promises, he makes elaborate breakfasts for the kids on the weekends, he keeps kids away from their mama when she's about to go nutball with their bickering, and he puts Will Smith to shame."
Hellion:
"I love my Daddy because he's smart, handsome, capable, and witty as hell. When I was little, he would take me for rides on his motorcycle and we'd go tearing up and down the pasture, having a grand old time; he also took me fishing and he taught me to swim. He could make anything he needed--and was able to make things I'd need for projects as well; and he could also cook and clean up after himself. I get my sarcastic wit from him--and one of my favorite witticisms was him explaining to my aunt what the bead necklaces hanging off my rearview mirror meant. He claimed they were my speedometer for my car. If they were trailing toward the backseat, I was driving too fast. If they were hitting the windshield, I was braking too fast. And if they were spinning in a circle, she better be seat belted because I clearly didn't know where I was going. (This was a response off the fly, when he was 85 or 86...He's only gotten more smart-alecky as time passes.)"
Sin:
"Dear daddy,
I get my ninja skills from you. We both know I could best you in a match of ultimate awesomeness. Even the flight attendant on the plane agreed. Obviously, he knew what he was talking about. He saw potential in my ninjaness. Well, among other things.
While you have lost the ninja debate, you're a great man who I look up to and defer to your magic skills of remodel and fix-it abilities. While you spent most of my childhood working to make sure we had a roof over our head and food to eat, you took time out of relaxing in front of the TV to teach me how to pitch a softball. How to shoot the hook shot and the three and dribble like a guard in the pros. You encouraged my love of sports even though I was (and still am) clumsy, awkward and so far from graceful there should be a youtube channel of my antics. You drove me to challenge myself and continue working on my game, all the while you were teaching me the real lesson in life. You don't have to be born with the talent to shine, hard work, determination and stubbornness can get you there too. You just have to fight for what you want and don't get discouraged when you fall short. Pick yourself up and try again.
And I've fallen off ponies. And fallen off the roof in my attempt to fly. And fallen down as I tried to jump on the merry-go-round. Fallen out of trees. Been down, discouraged and ready to give up. Broken bones and skinned knees and burned the skin from my flesh (not to mention the misfortunate of sharp objects operating near me) and all the scars I have are to show that you taught me never give up. I'll never give up.
So, in honor of all you've give me, I picked up something real nice for you daddy. A special, "That's about enough of that." for Father's day. *grin* I knew you'd like it.
Happy Father's day, daddy. I love you (I know you just grimaced- get over it.)
Your Monkey, Toots.
Chance:
"Dad was a handsome man and sent several of my girlfriends into a bit of a swoon. He also was the master of the colloquialism. "Stand on my head and spit nickels" was a favorite of his and he actually did it while teasing my niece one day. She never forgot it! Another was "Better than a poke in the eye with a sharp stick" ... "We're off like a herd of turtles!" And of course, "I danced with a girl like that once."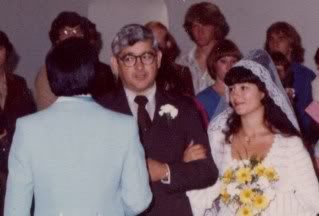 "He's gone now, three years on the Fourth of July. One of the last things he said to my mom involved their meeting and how it changed his life. "Made all the difference." Not a bad memory to leave my Mom. I sure miss him."
Marnee:
My dad - My dad passed away five years ago, a month after my wedding.  Lung cancer, an unapologetic smoker all his life.  My mom said when she cleaned out his truck, she found massive amounts of pain meds--Tylenol, ibuprofen, prescription stuff that she isn't sure how he got his hands on it.  We're pretty sure he knew what was coming and was trying his damnedest to stay out of the hospital as long as he could.
I remember the month before my wedding, asking him if he had a preference for a father/daughter dance song.  I fully expected him to let me choose as that was kind of his way.  But he said he'd get back to me and a week later, called me across the state to say he'd chosen "In My Daughter's Eyes" by Martina McBride.  I thought it was sweet, but only later did I realize he might have been saying something to me.  I miss him.
"In my daughter's eyes I can see the future
A reflection of who I am and what will be
Though she'll grow and someday leave
Maybe raise a family
When I'm gone I hope you see how happy
she made me
For I'll be there
In my daughter's eyes."
My hubby - I haven't got enough words to say how impressed I am with the kind of father my husband has become.  Just tonight he fetched water for a preschooler trying to drag out bedtime, helped burb an infant whose mom's feet were tiring out, and watered plants with a boy who's desperately trying to feel important in a house overrun with a new baby, even though it would have been much faster to water them alone.  He loves us all every day and he humbles me.
So tell us pirates of the RWR all about a special man in your life or you can just talk about what hottie you'd like to see next week. I'm all about some naked hottieness.