Tuesday, March 23, 2010
Hi and Ahoy and all that jazz, it's your favorite and only pirate ninja aboard the RWR, Sin. Today is a very special day aboard the RWR as we're welcoming on our newest captive- um, I mean crew member- the DRD (as I like to call her),
Dead Reckoning Donna
! We picked up DRD from her own ship and put her up in her very own spacious dungeon- um, I mean cabin- so that she can help us help you in your quest for all things writing and reading. The very ambitious DRD will be alternating with me every Wednesday. Just think, you only have to put up with two blogs a month of my rambling nonsense. See, some good really does come to bad pirates and wenches. *grin*
With no further ado, please make some ruckus for the DRD and make her feel welcome in her new prison- um, I mean home.
***
Welcome to the inaugural sailing of DRD Cruise Lines!  I'm Dead Reckoning Donna, and I want to warn you, the waters can get a little choppy as we leave port (especially if you try to nickname me "Dead").  So sit back, get comfortable, and hoist your tankard of rum.  I'm going to spin you a fantastical tale while we share this three-hour tour.
Each of us has our own source of writing inspiration, something that helps us create and mold our stories, an elusive creature we worship with cult-like devotion.
No, I'm not talking about the Kraken.  I am talking about a muse.  Or in my case, Muse, capitalized because it's her title, her calling, her
raison d'etre
, the reason she can be such a pain in the--
My Muse is Endora.  (For the young pirates aboard, she's the temperamental mother in the TV show
Bewitched
.  For the rest of you, thank you for your sympathy.)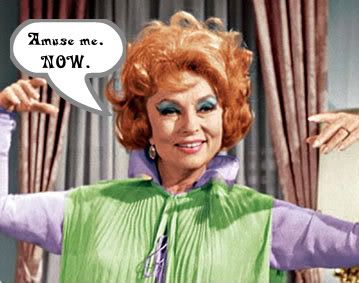 Endora is the perfect storm of haughtiness, disdain, and tough love.  During her unpredictable visits, I count myself lucky when she remembers to call me Donna instead of Durwood.  If there is anyone who is more confident of their contrary opinions, I haven't met them yet.  She'll bark out a laugh when I startle her with something funny (especially if I didn't MEAN for it to be funny).  She'll wrinkle her nose and sniff as if the litter box is overflowing when I've offended her storytelling sensibilities.
She's also incredibly surprised when I create something that amuses her.  I live for those rare moments when her heavily penciled eyebrows shoot up with astonished admiration.  She's miserly with her praise, as if each encouraging word causes a sharp pain in her soul, but I make her give until it hurts.
She's a witch with a capital B, but I'm driven to please her.   And she knows it.
Endora loves her job, but she's also flighty, and fickle, and rather capricious about
when
she will actually do it.  She is incapable of keeping to a regular schedule, so I've quit suggesting it.  If I accidentally bore her, there's a snap of fingers and a puff of smoke, and I'm instantly alone, staring at a blinking cursor on the computer screen, wondering how to lure the insufferable wench back.
What I usually do is tap away at the keyboard, resigning myself to the fact that I'm going to have to do this writing thing on my own for a little while.  Somehow the mundane task of typing entices Endora. Maybe she's planning to thump me on the head for waking her from her beauty nap.  Or maybe she's come to warn me of the hex with my name on it if I don't stop trying to write solo.
I'm never sure WHY this technique brings her back.  I doubt she knows either.  But it does.  The next thing I know, she's looking over my shoulder, snorting with derision, and then I hear a muttered, "I suppose that part's not
too
horrid."   It's hard to tell which of us is the most surprised by her grudging approval.
The tricky part is figuring out WHAT makes Endora happy, because, as with any diva, it's never the same thing twice.  If she adores chocolate one day, and the words flow after I've presented her with the most exquisite confections ever made. . .the next time she'll take one bite of the same stuff and spit it out as if I'd given her a clod of dirt.  If I take a nap to deal with the heartbreak of her desertion, she plops down next to me, whispering tantalizing plot points in my ear until I am wide awake, frantic to give her my undivided attention again.
Yet, as contrary as the old gal is, I can't imagine what my writing life would be like without her.  There's some sort of magic in this partnership of ours, and I've quit trying to figure out the dysfunctional workings of it.  Ultimately she seems proud of my efforts, and I like to believe she wouldn't hang around if she didn't get
something
out of the experience.  (I don't want to even contemplate how many other unfortunate writers she torments on her daily rounds.  We could probably have an annual convention.)
Mmm, looks like we're returning to port already.  *taps watch*  Did we finish early?  It sure didn't seem like we used the whole three hours. . .
Well, anyway, I want to thank everyone for choosing DRD Cruise Lines today, and I'm really looking forward to future trips with you.  I know you're reluctant to leave, but we'll be docking soon, so if you'd like to line up over here--
*ship lists severely to one side*
Careful!  Don't everyone try to de-boat at once!  You'll tip this thing over!
So, do you have a muse?  What is he/she like?  How do you keep your muse happy?  How does she reward you for your efforts?