Thursday, February 25, 2010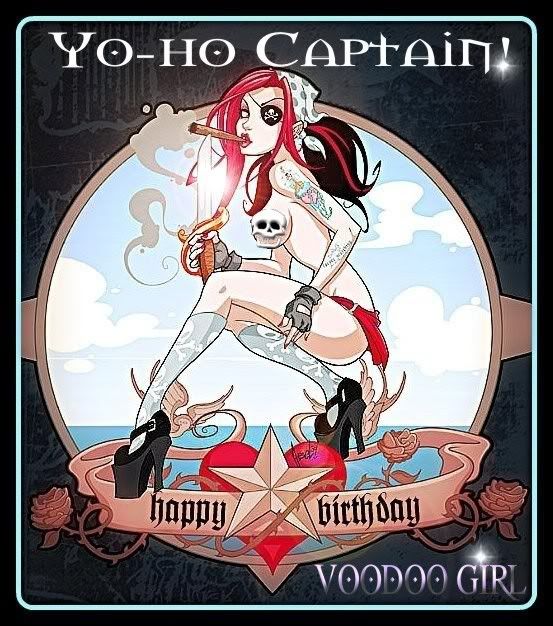 The undead monkey screeches, swipes his grubby paws through the icing on the cake, and darts off. Chance keeps the drinks coming, and keeps all the pirates loaded.
Cap'n Hellie stumbles up to the front, and Sin helps her stand on a whiskey barrel. "Attention crew! No one, and I mean no one, was supposed to know!"
Hal leans over to Marn: "How much has she had to drink?"
Marn: "Not that much. What's Chancey putting in these drinks?"
Cap'n Hellie totters on the Whiskey barrel, but regains her footing with the help of one of the cabin boys. "Thank you, dear. If you stick around, I'll thank you properly."
The cabin boy pinched her butt as he walked away.
Ter raised her glass: 'Now this is turning into a party!"
"Noooo!" Cap'n wailed. "No one was supposed to know!"
Sin and Chance, at the bar, looked at each other and burst out laughing. "Right, secrets on a pirate ship. Does she think she's commanding a crew who actually listens to her?"
"Apparently not!" Hellie sat down on the barrel to avoid to avoid tottering again and re-adjusted her birthday tiara.  "I thought I'd fooled you all last week with saying I was taking time off for no special reason."
Ter refilled her glass and whispered to Sin, "Right, like that was going to actually work."
"But the point," Marn said, "Is that now we get to have a party! Where'd the cake go?"
"I think the monkey ate it," Hal said.
Santa came rushing up from the galley, J hot on her heels. "I saved the cake! I saved the cake!"
J held up the undead monkey by his scrawny neck. "And I caught the little bastard." Icing coated his face while he squeaked away.
"Okay!" Hal said. "Now it's a freakin party!"
Happy birthday to Hellie! Who wants to party with us today? Chance, what are you putting in those drinks? Santa, this cake is delicious!  Who put these decorations--they're awesome! So Hellie, what did you decide to do with your time off? Johnny's at the bar. He seems sad waiting for you. He has a very special birthday present to give you!