Monday, November 16, 2009
Earlier this year, I went and saw the movie, UP, which is a brilliant movie designed within the first ten minutes to question your ability to tell stories at all. It's got love and adventure, tragedy and laughter, danger and a happily ever after. It also has magic that can't be divined; it's clearly the magic of creating characters that seem to walk off the screen and into real life.
But you'll need to watch the movie for yourself to appreciate it. No, I'm going to talk about the little cartoon short that was featured before the movie: Partly Cloudy. It was five minutes long, with no dialogue, but there was no info dumping or backstory—just a brilliant little tale about clouds who made babies (i.e. humans, puppies, kittens) and the one little gray cloud who made other babies (i.e. alligators, sharks, porcupines). Just another nearly crippling blow to my writer's ego that dialogue wasn't remotely needed to tell a story that could make you laugh and cry within five minutes, and leave you thinking about it long after.
I bought my DVD copy of the just-released movie and watched it again, still sniffling and crying at the right parts, then laughing hysterically at the baby animals the grumpy cloud creates. Talk about a character I could identify with. I look all around me at other clouds (writers) who are creating characters and stories that are much more mainstream (i.e. humans, puppies, kittens), while I am endlessly fascinated in creating characters and stories slightly off the beaten path (i.e. alligators, sharks, porcupines). And I have thrown more than my fair share of water-logged crying tantrums when my stork (i.e. CPs or potential agents) have flown off to more mainstream writers to work with. How could I blame them? Like the grumpy cloud, I don't see what's so special about babies, puppies, or kittens.
However, as I was staring at that baby alligator that the grumpy cloud had created, all I could think, "Awww, look how cute it is! There's a market for baby alligators. Someone, somewhere, loves baby alligators." And then the alligator bites the stork and I laughed. After all, that is the sensitive and caring person I am.
The black moment comes after the stork, ever faithful, ever returning for more "off the beaten path" characters, is presented with a shark. He flies off in pure self-preservation; and every writer knows, as the grumpy cloud realized, not every brilliant idea you have is going to be publishable. Or least maybe there might not be a market for it right away. It might have to be something you save for a cloudy day.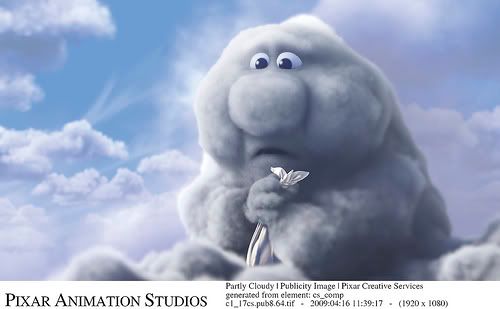 The grumpy cloud allows himself some crying and foot stomping and "it's not fair" tantrum-throwing before he settles back down and seems to wonder, "Should I try something more mainstream?" And it's at this crisis of faith, the stork returns, armed with hardware, ready to be the grumpy cloud's go-to man. The agent that says: Yes, there is a market for your kind of crazy.
The grumpy cloud is so happy, he hugs the stork and presents him with an electric eel. We writers can't change our true shades of gray. We are who we are. We just need to realize there is a market for baby alligators…and out there is a stork who is willing to go the distance to find the right home for our babies.
Having a bad writing day? Go watch Partly Cloudy. You'll feel better.
What do you do to cheer yourself out of the writing doldrums of Doubt, Fear, and Loathing? What book or movie have you read or watched lately that has destroyed all your confidence in your ability to tell a story? Come do your grumpy clouding here. The stork is ready to listen.