Wednesday, October 21, 2009
9:00 PM
|
Posted by Marnee Bailey
|
|
Edit Post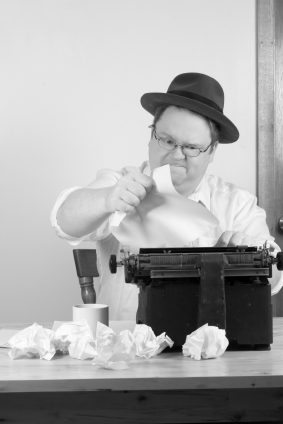 Two weeks ago, the Captain requested I share what I know about query writing after I stuck mine in my interview.  I will capitulate.  But first....
Two disclaimers: 
1)       I am not, in any way, shape, or form, an expert on this subject.  I'm only giving you what I've been told by others.
2)      Some of this is just my preference. 
That said, here goes.
The Query Letter. 
Most of the stuff I've read about query writing suggests a three paragraph format.  I chose a four paragraph format and I'll explain why in a second.  Each paragraph serves a specific purpose. 
Paragraph One:  The hook
This paragraph is supposed to grab the attention of your agent/publisher.  There are lots of suggestions on how to hook.  One is the "high concept," that mix of two pop culture knowns to create your own niche (Transformers meets Jane Eyre or whatever).   Another is a hook line, a sort of situational one-liner that sets up your story.   Some places suggest using a question, a sort of "Have you ever thought what would happen if…" kind of question.  But I've read other places that say that questions aren't as good for whatever reason.  You pick what you like.
Paragraph Two (or in my case, Paragraphs Two and Three):  The Summary
This is where you get to tell the reader what your story is about.   The key here is to focus on the major conflicts, both external and internal.  Focus on what motivates your characters. 
I use two paragraphs here, one for the heroine and one for the hero.  In any other genre besides romance, I think one paragraph works fine because usually there is only one main character's journey.  But romance is two characters.  So I think it works best to split them up.
I like to keep it down to 3 sentences a paragraph.  So a total of 6 sentences to say what you need to say, 3 for hero, 3 for heroine.  Now I've read people's queries who have more than this but that's kinda where I try to stay.  Less is more here.
Paragraph Three (Or Four in my case):  The Biography
Here's where you tell them about you.  Mention organizations you belong to (RWA) and any other qualifications that make you the right person to write your book.   Previous publications.  Any contest finals or wins that you have.
A couple of other pieces of advice/suggestion:
·         In this, the shorter the better.  Never use two words when one will do the job.  Agents and publishers are very busy people who see hundreds of these every week.  It has to be concise and it has to have impact.  Word choice is everything.
·         Someone suggested that in the biography RWA is pretty much a given these days, though they still say to mention it.  But as for chapters?  The query workshop facilitator I'm currently working with says to keep it down to one, two tops. 
·         Try to get your voice in there.  Remember, this might be the only thing the agent/publisher sees.  Give them your best punch.
·         Don't forget to mention the specifics (ie the title, genre, and word count).  I've seen people put it in the hook paragraph and I've seen it in the biography paragraph.  I think it's personal preference.
I think that's all I've got for you.
I can offer to let us work through any issues today, if you all would like.  The full query, the hook, the biography, whatever.  As I mentioned, though, some of this is personal preference.  There are just the guidelines.  So, if you've got something you'd like some feedback with, have at it.  If not, what about these general guidelines do you like?  Do you dislike?  Have you heard anything else that I didn't mention here that you'd like to share?  Thoughts on the query process overall?