Tuesday, February 24, 2009
First and foremost I must wish the Captain a wondermous and happiest birthday today. Happy birthday Hellion. May the hotties be hot and the rum be plentiful.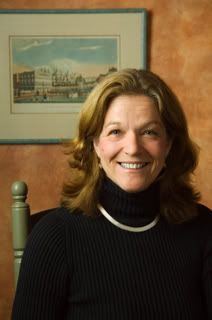 'ello wenches and pirates. It's me (in case you've started to miss the sound of my voice or something) here with the wonderful debut author
Miranda Neville
. Her book
Never Resist Temptation
, set in Regency England, released yesterday, February 24, 2009 from Avon books. Run out to your nearest bookstore and pick it up today, if you haven't already got a copy. And if so, get another and give it to someone.
So without further ado, give a warm welcome to Miranda.
***
Aagh, me 'earties, thanks for inviting me on board. My gal Jacobin's just who you cutthroats need in your galley. She'll toss your scurvy seacook out of the porthole, grab Cap'n Hellion's bottle of rum, and turn it into a Run Baba sooner than you can say "couteau." And if you're really good she'll bring her hottie, aka Anthony, Earl of Storrington (unless he's all tied up.)
Can I drop the pirate lingo now? I like pirates as much as the next girl but NEVER RESIST TEMPTATION
plants us squarely in Regency England with not so much as a cutlass in sight. In fact we start out in Regency Ground Zero, the Prince Regent's seaside palace at Brighton (so maybe there's a pirate or two offshore) where Jacobin de Chastelux, daughter of a French aristocrat and niece of an English baron, is working as a pastry cook. Because, despite her background, Jacobin has what we nowadays call a marketable skill. She learned to cook from her uncle's incredibly handsome chef (who isn't the hero).
Just as well, because Jacobin is on her own. First her horrible uncle lost her in a card game to the evil Earl of Storrington, then she's suspected of trying to poison Uncle Candover. The good news is she's been offered another job. The bad news: her new employer is none other than the dastardly Earl.
Turns out the Earl (Anthony) isn't the disgusting old rake she'd envisioned. When he visits her in the kitchen the heat gets turned up to high and it isn't just in the oven. But Anthony has issues and his own motives for using her. Plus there's that little matter of a murder charge hanging over her. You'll have to read the book to discover how Jacobin and Anthony resolve their differences, track down the real murderer and learn to appreciate whipped cream.
I had a lot of fun with the food in the book and I use authentic recipes from the cookbooks of Antonin Carême, history's first "celebrity chef." He worked for French monarchs, the Tzar of Russia and, for a short time, the Prince Regent. Reading about him was the catalyst that made me decide to write a romance with a culinary background.
I know one of you villains is writing about a contemporary chef. Let's face it, there's something very sexy about food. How do you use food in your writing? Can you think of any romances with good eating scenes? The best answer wins a prize. (Hint: it involves chocolate)