Wednesday, January 28, 2009
6:30 AM
|
Posted by Marnee Bailey
|
|
Edit Post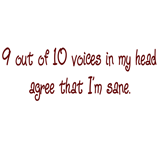 Scenes from yesterday, with some liberties taken with actual times and actual conversation.  Ok, some liberties taken with all of it.  This is, however, based on a true story.
Cast:
Marnee – the slightly frazzled stay-at-home mother of one attempting to make headway in her latest manuscript.
Sarah – the heroine of said latest manuscript, a prophet who reads the future by staring in other's eyes.
Nik – Sarah's hunka, hunka burning love.
9:02 AM
*Marnee sits down with a cup of coffee to check email, comment on blogs, and reread what she wrote on her WIP yesterday.  She places fingers to keyboard.*
Marnee:  Ok, Sarah, you are going to have to try to keep Nik from kidnapping you.
Sarah:  *sighs* I'm tired.  I told you these premonitions take a lot out of me and I really don't have the strength to fight with him right now.
M:  Tough it out, missie.  I got you this far.
S:  *heavier sigh* Fine….
9:43 AM
*Marnee sits in the same spot with her hair all askew from tugging at it in frustration.  Three cups of caffeine are coursing through her veins and making her fidget like she has to pee.*
Sarah, whining:  I told you that I just want to see into his future so I can see if going with him is the best way.  If it isn't, I'll fight him.
Marnee, screeching:  And I told you that you shouldn't see his future for another chapter or two!  Why aren't you listening to me!?
S:  Because your way is difficult.  I'm wussing out here.  I'm tired.  This is the easiest way.
M, whining now:  But that isn't how I saw the story going.
S:  And I'm telling you that it IS how the story goes.
*Marnee closes her computer in frustration and goes off to color with her son*
Sarah and I battled it out for the rest of the day yesterday.  I'd try to force her into submission but she ended up being more stubborn than me.  By last night, I gave up.  She's going to see whatever is in their future whether I wanted it to be like that or not.  I'm going to have to find out what happens and rearrange my story accordingly.
I'm a plotter.  These character rebellions drive me bonkers.  I spend a lot of time in the beginning of my writing process asking my characters what they think is going to happen between them. Inevitably something comes up that they hadn't made clear to me on the onset and I end up rearranging to accommodate them.
People who don't write don't understand this entire phenomenon.  I told my husband last night at dinner that Sarah was giving me a hard time and that she wouldn't do what she was told.  He smiled, chewed his chicken thoughtfully and said nothing.  But the rise in his eyebrow said clearly that he was once again questioning my sanity and the prudence of leaving our impressionable young son alone with me all day.
But I mentioned the same occurrence to our lovely Coxswain late last night and she said, "Don't you hate it when that happens?"  I sighed in relief and smiled in communion.  We both know that it's the kind of hate that we love.
Because even though we say we hate it when that happens, we also know that it's a great sign and bodes well for my story.  It means that the characters are so strong in my head and that they're characterized so clearly for me that I'll intuitively know if something "works" with them or not.   And that I'm on the right track.
And that I'm not, in fact, losing my mind.
Do you hear your characters in your head?  How do you deal with character rebellions?  Are you happy or annoyed when they take things over?