Monday, October 27, 2008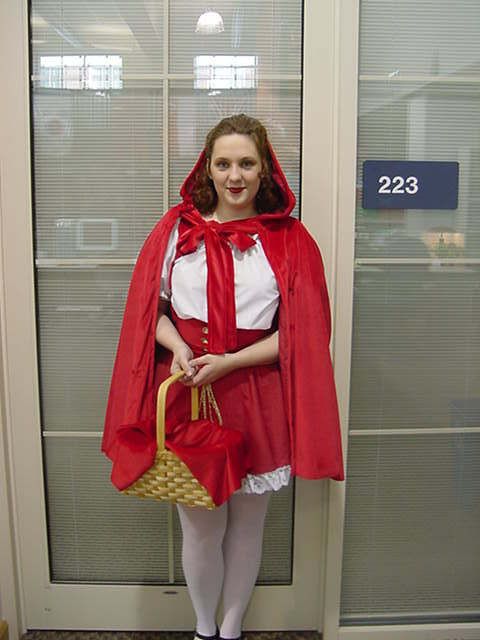 Halloween is my favorite time of year. I love playing dress up and being someone else, even if it's only for a day. It's the whole freedom aspect, like wearing a mask to a masquerade ball. You're not held accountable for whatever behavior you do while in costume because you're somebody else.
When I was in high school and college, I didn't make my own costumes, and I never bought any. In college, it wasn't really about how inventive your costume was and more about "how much of my ass and cleavage is showing?" (Things have not changed.) Anyway, sewing wasn't exactly what I'd term as one of my talents when I'd graduated with my BA. I had a semester of Home Ec in 8th grade where I sewed a duffle bag. The pattern was dyed on the material, which we then cut out. It was blue; and I had to put in a zipper. A damned ugly piece of work. I think my teacher generously gave me a B- on the thing; and that was the last time I touched a sewing machine for, oh, about 8 years.
My mom was the sewer of the family, not that she exactly sewed a whole lot of things. But I do recall a Christmas elf skirt she made me, designing the pattern herself. It was particularly humorous and noteworthy because she didn't take into account my backside. The front of the skirt probably came to mid-thigh, and with my butt, it came up a couple more inches in the back. Keep in mind, this was before Britney Spears and the mini-pleated skirts that have become common place. I was undoubtedly the only deacon's daughter in the music choir whose holiday costume could have doubled for a hooker's ensemble.
In August 1997, three big things happened: my mom died; I'd graduated from college the May before; and I'd just started my first job and had some money to play with. I decided I wanted to dress up for Halloween. But I didn't want to buy some sad, pathetic little costume at Wally-World. Oh, no. I was going to sew my costume. I who hadn't so much as sewn a button since 8th grade. My arrogance occasionally astounds even me.
But I would not be deterred. I bought a sewing machine. That, my friends, is commitment. Then I went one better. I wasn't happy with the selection of costumes Simplicity had out that year. I wanted to be a Scottish wench. I wanted a long skirt and a white blouse, a black corset, and a plaid length draped over one shoulder. (I'd read lots of Scottish romances that year. Was still wildly in love with Braveheart.) I would even dye my hair the reddest-red for the occasion. Now if you peruse Simplicity's site, you can't help but trip over a half-dozen patterns for Ren Faire wear, all of which include a corset. This was not the case in September 1997. I had to make up my own corset, but hey, that sort of innovative thinking ran in our family. Remember my slutty elf skirt. I'd figure something out. I had bigger worries, like threading the machine.
I bought the materials. I found a passable costume pattern that had most of the items I needed; and I would just wing the corset. It was going to be done. And it was. I had a Halloween costume that year. It looked exactly as I imagined it, though perhaps a more sloppy sewing job than I'd hoped. My hemming was hopeless. However, I didn't use any sewing glue, so I counted myself a true seamstress. And the corset came out great, grommets and everything. Very fetching. My friends were all notably impressed.
Every year after that, I tried to outdo myself; and I'd pick more complicated costumes to create. After basically bruising my ribs one year with an "authentic Elizabethan corset" I made (vanity, thy name is Frannie), my friend Pam said I was not allowed to have a corset the next year. So I dressed as Eve. I sewed a sheer nearly-naked little dress, attached to a leopard print bra (because I had to have good cleavage, you know), then sewed fake leaves all over it. This brief outfit probably cost more money and man-hours than the Elizabethan one. It was also more insanely popular than the Elizabethan one had been.
One year I was Little Red Riding Hood (another popular year); and for three different years I've been some variant of pirate. (The pirate wedding dress was a particular sewing challenge that I was proud of. I've come a long way since my duffle bag.) But then there were the years I didn't want to sew anything. Hell, I didn't even really want to be anything. One year I dressed as the little girl from Monsters, Inc, and loved it because how often can you wear pjs to work? And another year, I dressed as Marilyn Monroe because it only required this cute little black dress from my closet and a wig. (I believe Marilyn was even more popular than Eve.) There was the year I was mistaken for Harry Potter by my own father and I decided to dress as Harry to "show him." Innumerable man hours in which I sewed my costume and my friend's, who went as Hermione, as well as crocheted our scarves. (Guess how long it had been since I'd learned to crochet! Longer than the duffle bag.) Dead ringers, though my father frowned at me and said, "That's what he looks like?"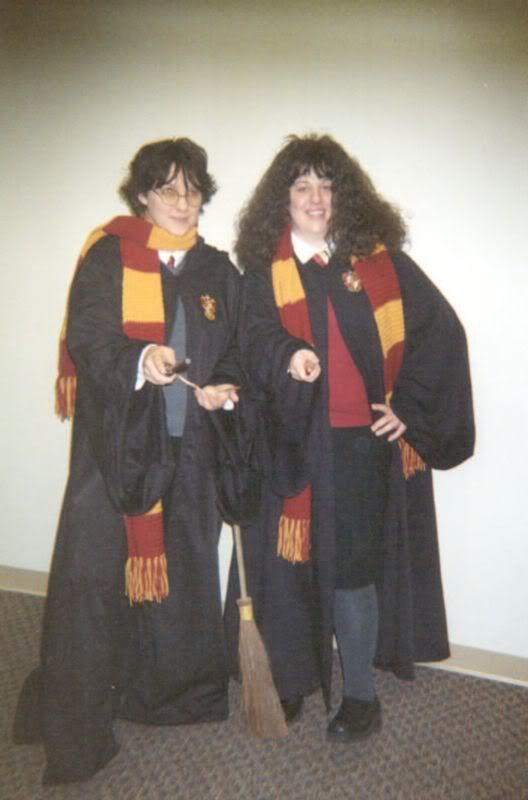 This year has come and gone. Normally I spend months preparing for the event. I pick out my costume months in advance. This year I couldn't make up my mind. I thought about being Mrs. Lovett from Sweeney Todd—and making the worst pies in London. And I have the material and pattern to make a slutty Princess of Thieves costume. I also have material and a half-ass pattern to make a sailor's sweetie outfit. (Going back to my Scottish wench roots, I suppose, of ad libbing.) Hell, I could have ordered something, but where is the fun in that? I've just not been in the Halloween spirit this year.
Our BodyPump instructor is even playing spooky music this week; and we're to dress up for class on Wednesday. I bought some devil horns and a tail for the occasion because I couldn't think of anything else—and I'm certainly not donning that Elizabethan corset. Friday, I'll probably harken back to my college days, wear my sluttiest short black skirt and the cute little black top I bought a few weeks ago, then wear my devil horns and tail. People will say, "But you coming to work as the devil isn't really dressing up, is it?" and I'll undoubtedly poke them with my plastic pitchfork that I got for 50% off. I'm just not feeling the Halloween spirit this year. The Muse has left.
Normally I'd say the Muse is a bunch of hooey. You write by sitting down and writing. The Muse will show up when you get the first page, or first thirty pages down. But I'm beginning to see the other side of the case. The Muse is pretty important. In 1997, I could have bought a sewing machine, material, and a pattern, and never come up with a single outfit to wear come Halloween. How can I be sure? Because I have material, a sewing machine, and scads of time to devote to creating a costume--and it didn't happen this year. I've discovered it also doesn't matter so much if you've ever sewn or not. If the spirit compels you, you can make things happen. (Funny how that works in writing a story, too. No amount of book learning can replace practical experience in doing something. Actually that works in sex too.)
So clearly my Halloween Muse has taken the year off. Unfortunately I think she took my Writing Muse with her. I think the tarts are off in Italy, drinking wine and eating carbs to their hearts' content.
So…how important is the Muse in your life? Have you ever managed to accomplish something you were ill-trained to do? Are you dressing up for Halloween, and if so, as what? And perhaps most importantly, how do you get a Muse to return to you?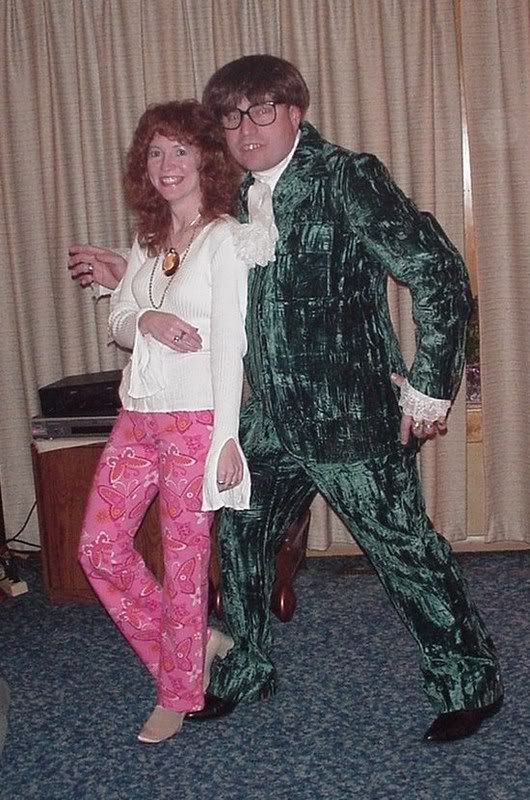 Irish and her Halloween Lovin' Hubby