Monday, September 29, 2008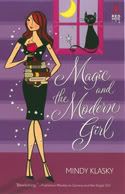 Hellion: *punches button to play spooky music* Welcome, pirates and 'lubbers, it's that time of year again—that's right, Hellion's most favorite time of the year!
Jack: You mean when we sail into Tortuga to stock up on rum?


Hellion: …Hellion's SECOND most favorite time of the year: Halloween. And to kick off the month of October in a spooky and festive way, we've brought Mindy Klasky, author of the fun, witty, and dare I say, charming books about a witch named Jane Madison. Her newest novel: Magic and the Modern Girl hits the stands today (September 30, run, run, run and buy it now), and I cannot wait to read more about the hunky David, her warder. Say hello to Mindy!
Crew: Hello, Mindy!
Mindy: Hello Jack, Hellion, and the Crew! Thank you so much for having me here today!
Jack: Would you like some rum? *handing Mindy a drought of grog which she takes, looking at the mug dubiously*


Hellion: Mindy, I'm so glad you agreed to let us interview you today. I can't tell you how much I've enjoyed your series so far. Okay, so I can: I loved them! They were awesome! (They remind me of a paranormal version of Hester Browne's Little Lady series.) For those of the crew who haven't read the first two books, can you tell us more about Jane Madison and her merry adventures into being a witch?
Mindy: Jane Madison is a librarian in Washington, D.C. The library where she works, which specializes in Americana, is so underfunded that they need to cut Jane's salary. (They also need to lure people in by having Jane dress in colonial costume, and by featuring expensive coffees at an in-house snack bar.) In fact, the salary cuts are so severe, that Jane can't afford rent on her lousy apartment – but the library comes through, letting her live rent-free in a cottage on the library grounds. Only after she moves in does she discover a secret stash of books in the basement – books about witchcraft. Jane's first, inadvertent, spell awakens her familiar, a snarky man who spends part of his life as a black cat. Her second one is a love spell, which goes awry rather dramatically. After that, things get, um, interesting.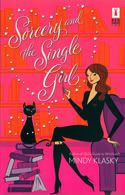 Hellion: Interesting. *laughing* Yeah, that's an understatement! What is Magic and the Modern Girl about? And do you plan to write any more in the series?
Mindy: In MAGIC, Jane has let her powers lie fallow for several months, as she tries to get other aspects of her life under control. As a consequence of not being used, Jane's magic withers; her runes crumble, and her books fade. Jane realizes that she needs to use the last remnants of her power on one last-ditch spell. When that working doesn't turn out as she plans, Jane has to stake everything on her survival as a witch, dragging her familiar – Neko – and her warder – David – along for the struggle. Along the way, she encounters true love, re-engages in battle with her self-centered mother, and agrees to be a bridesmaid at her octogenarian grandmother's wedding.
At the moment, I don't have other Jane Madison novels in the pipeline, but I know that there are more stories waiting to be told – if my readers ask for them loudly enough that my publisher hears!
Hellion: What is your next project? Anything new and exciting you're working on now that you'd like to share?
Mindy: The first book in the As You Wish series will be published in October 2009. THERE'S THE RUB is about a stage manager who discovers a magic lantern while she's cleaning out a prop closet. She releases a genie who begins to grant her wishes – only to make her life substantially more complicated than she ever dreamed it could be.
Hellion: *snortal* OMG. Yeah, that would be the luck, wouldn't it? Wishes are complicated buggers. Okay, changing the topic slightly: I cracked up at your biography. I'm impressed you went on 28 first dates in one year. (I went on this date once with a guy who showed me a video of him shooting a pig….)
Jack: You went on a date? Without me?
Hellion: *bats at Jack* Anyway, I was just curious if you'd share your funniest, worst date story?
Mindy: My worst date stories are folded into the Jane Madison series – every single one of Melissa White's first dates has an element taken from one of my own first dates. And then there's the romance in my life that tracked Jane's encounter with her Imaginary Boyfriend…. Let's just say that the fictional apples don't fall far from the real-life tree!
Hellion: I do the same thing! All right, I haven't worked the Pig Guy into my fiction yet, but just wait. Okay, back to more writing stuff. What's your process like? Are you more a pantser, plotser, or plantser? (i.e. do you write without an outline, with an outline, or outline about three or four chapters in advance, then write…)
Mindy: My first six novels (five traditional fantasies published as the Glasswrights Series and one stand-alone fantasy, SEASON OF SACRIFICE) were written entirely as pantser works – I had a three-sentence idea of what would happen in the books, then I rolled up my sleeves and wrote.
The Jane Madison Series and the As You Wish Series are plotser books – I had fairly stable outlines in place before I started writing them. (With the Jane Madison Series, I created spreadsheets in Microsoft Excel. With the As You Wish Series, I'm using software called Scrivener, which runs on Apple computers. Scrivener supports outlining, note-cards, and synopses in easily manipulated files.) I changed to a more outline-based style because my publishing contracts changed – I now get paid a portion of my advance when I submit a working outline of each novel. Having the structure of an outline in place makes me a more confident writer who can complete work faster, so I'm pleased with the transition.
Hellion: What was your Call Story? (We love Call stories on the ship….)
Mindy: Ah, the Call….
On March 31, 1998, I signed a one-year contract with my agent, Richard Curtis. That agreement expired on March 31, 1999, without his having sold my novel, THE GLASSWRIGHTS' APPRENTICE. The day after the contract expired, I was working in my law firm's New York office when I received email from Richard, with the subject "A Bite." The text of the email said that an editor at Roc (a PenguinPutnam imprint) was interested in APPRENTICE, but she wanted a three-book deal. He had told her that I had sequels lined up, and he wanted to discuss those sequels with me.
After screaming, I tried to phone Richard, but he'd already gone home for the day. Trying to distract myself, I decided to attend a Broadway play. Halfway through the first act of a murder mystery, I realized that the date was April 1, and that Richard's email could be an elaborate April Fools' Day joke. I was unable to watch the rest of the play; instead, I stayed up all night, debating whether my agent was the cruelest man in the history of the world.
Fortunately, he got to the office early on April 2, and I learned that he wasn't a sadist. We worked out a couple of paragraphs describing sequels to APPRENTICE, and the deal was done!
Hellion: *laughs* You poor thing—though I can't imagine an agent being that cruel, well, not about that anyway. Still, I understand the suspicion. *grins* Okay, your Glasswright series. Let's talk about them some more. While the Jane Madison books are also a sort of fantasy, they do seem to be completely different in setting, tone, and writing style than I imagine the Glasswright series. Am I right? And how hard is it to write in a complete different "voice"? (Or is your voice similar in both series?)
Mindy: My voice is very different between my traditional fantasy novels and the Jane Madison Series. The Glasswrights Series and SEASON OF SACRIFICE are relatively dark novels where bad things happen to good people. The tone is fairly formal, and there's little attempt at humor.
By contrast, the Jane Madison Series is intentionally light-hearted (as is the As You Wish Series.) Each individual volume raises serious questions about the nature of friendship and love and social bonds, but the characters express a sort of wry amusement that would never fit the dark, feudal world of my traditional fantasies.
I enjoy being able to move between settings. While I'm working on the As You Wish series, I'm also toying with a new epic fantasy novel. I'm trying to bring some of the feeling of my contemporary humor writing to a traditional fantasy world, striving to give characters a humorous slant, even as I keep the jokes appropriate for their medieval world.
Hellion: What has been your favorite part of writing this series?
Mindy: I love writing the scenes with Neko, Jane's feline familiar. He gets most of the good sarcastic lines, and his absolute freedom to say whatever he's thinking about Jane's appearance, love life, and magical skills gives me a good chance to sharpen my wit. (Neko knows much more about fashion than I do–I often need to do some online research to perfect his snarkiness!)
Hellion: *laughs* That cat is hysterical. Mindy, I just wanted to thank you again for interviewing with us today. Oh, one last question: what is your favorite part about Halloween?
Mindy:  I love seeing kids in homemade costumes, and I adore clever adult costumes (one of my favorites: "Dry Cleaning", wearing a dry cleaner's plastic bag over the shoulders, with the paper tag stapled to the bag, and a hanger cut out as a head-piece.) I also really enjoy the "trick or treat" aspect of the holiday, with surprises coming from nowhere. To that end, I'll gladly give away one copy of one of the Jane Madison books (winner's choice of GIRL'S GUIDE TO WITCHCRAFT, SORCERY AND THE SINGLE GIRL, or MAGIC AND THE MODERN GIRL) to anyone who answers in the comments, stating their favorite thing about Halloween! (The winner will be chosen at random – leave your email address in your comment or check back here to see if you're the winner!)
Hellion: Wooot, free booty! You might as well have said: free rum. Speak up crew: what is your favorite thing about Halloween? And don't forget to run out and buy the latest in the Jane Madison series...it's in stores today!