Monday, May 19, 2008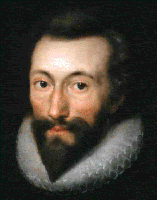 I'm not a fan of literature we had to read in high school, but there were a couple pieces that made an impression. One was John Donne's Meditation 17, where he says no man is an island; and that any man's death diminishes all of us. Cheerful Tuesday fodder, I admit; but in my Hellion irreverence sort of way, I think, hey, no writer is an island. All writers are a part of us; and what we put forth on the page has been influenced by all the writers that have published (or some even, unpublished) before us.
I buy writer's books whenever I'm stymied by anything. A footnote, a punctuation mark, a sex scene…whatever. If you go to the "Go On Account" page where a bunch of writer's books are listed, I have all but one of those. And many more besides. But the question remains: can a writing book really teach a writer how to write? Or for a completely different analogy: do you really learn how to have sex by reading a theorized manual on it, or do you learn by practice—and if you're lucky, by being tutored by someone who's done it before and knows how? (I know, we pirates, everything circles back to sex. It's all the men on this ship!)
But really, although I have learned some really great things from the writer's books I've gotten, I have to say—the real stuff I've learned about writing, I learned from reading other published books. Books I wanted to write myself. Books I was so inspired by that I ran out and told all my friends about. Okay, maybe not when I was thirteen. (My friends threatened to burn my books then, so I didn't exactly share then.)
In the first "real romance" I ever read (circa age 13) I learned the importance of the "cute meet." Janelle Taylor's First Love, Wild Love is a story about the rancher's daughter who comes home, stays overnight at a bordello (after nearly being accosted), and ends up being seduced by the hero, a Texas Ranger, whose bed she just happens to be sleeping in. (Granted, I'm taking liberal interpretation of "cute meet" but considering the scene in question, it's one of those 80s "forced seduction" scenes. The Windflower out West.) The cute meet ties with the "catalyst" (sex) and the rest of the book is this wild romp of will they or won't they? I still have a soft spot for blond Texas Rangers. And bordellos. It probably also explains why I love having heroes who have a LOT to overcome to make themselves heroic. (I mean, what type of guy has sex with a girl who's barely awake? Even if she is dressed like a strumpet? Even if she did seem interested? I mean, get her name first.)
In the second "real romance" I read (Autumn Dove), I learned the importance of internal conflict. He was a half-breed and she was a white woman/lady. Considering the time period, it would never work out. And the internal conflict of this very simple belief propelled the external conflict as well! The conflict was built from the characters themselves. It wasn't just some historical point where two characters were inserted; the book seemed very real, as if these were real historical figures with real problems.
Then there are my auto-buy authors: Jude Deveraux, Julie Garwood, Teresa Medeiros, Elizabeth Hoyt, Sherrilyn Kenyon, and Kasey Michaels.
Jude Deveraux: her heroes were always to die for. I always wanted to marry a Taggert or Montgomery (especially Alex from The Raider or Hank from The Awakening.) I loved the situational comedy she'd do; and the feisty heroines with the smart remarks, but her heroes were always my favorite of all. Her heroines seemed so real; her stories were different (hello, A Knight in Shining Armor?); and her heroes were swoonworthy.
Julie Garwood: I adore her gift for the one-liner and dramatic irony. She knows how to open a chapter, and she knows how to end it so you don't dare put down the book and go to bed. I'll never forget my jaw-dropping when I got to the end of one of her chapters and I read, "We like to call her Pagan." (I was 14 or so, and not very good at solving the mystery—so this was huge news to me.) I couldn't put the book down after that. Now when I read the book (The Guardian), it's clear from the first chapter who Pagan was; and I love her cleverness at imbedding the clues in plain sight.
Teresa Medeiros: I've always wanted to be able to do lush prose and setting like Teresa does. It's gorgeous; and it doesn't seem overdone when she does it. Sweet humor, vivid emotion—I couldn't even begin to be that brilliant, but damn, it's beautiful to read. Maybe one day it will rub off a little.
Kasey Michaels: In my favorite books by her, she starts off with a quotation. I love this. I love quotations—and I imagine she does too. She probably does this because she likes them. What a wonderful thing to learn! Write what you love! I think she writes the story she wants to read. Like J.K. Rowling does…whom we all know I adore! P.S. I think Kasey has some really imaginative, clever plots and twists! I wish I was half as clever.
Sherrilyn Kenyon and Elizabeth Hoyt: The hottest sex scenes ever. Sex scenes so hot even my best friend who used to burn my books can't wait to read the next one. Okay, so she says she reads Sherrilyn for the stories, but she admits the sex is hot. She doesn't skip it. That's saying something. To make the characters so believable, the sexual tension so thick…yeah, you don't want to skip a word of the love scene. This is hard. I've read books where the characters were likable; the story good—but the tension was lukewarm at best, and I skipped the sex scenes. Me! I never skip sex scenes! Or worse, you have characters but no tension—just pulsating jets of warmth between your thighs or whatever. SKIP.
Speaking of skipped sex scenes, even the books you don't like you learn from. You realize what didn't work for you and you learn not to do that in your writing. For instance, I will never have a jet of anything shooting anywhere in my manuscripts.
And to think these were all books I was going to buy anyway! So are all my other writer's books a complete crock and waste of money? I don't think so, but I don't think I've learned half as much from them as I have from my auto-buys and the books I cut my romantic teeth on.
What about you? If you're a writer, what do you think has influenced you more? What books have you read that made you go: Damn, I wish I was this brilliant? If you're a reader, what makes you keep going back to the authors you read? Is it anything specific? What makes you avoid some authors/genres? Do any particularly vivid scenes stick out in your mind that you wish you could have seen the book made into a movie? (I would have loved The Guardian or The Raider as a movie.)