Tuesday, May 13, 2008
I'm not sure what a mizzenmast is. We have Luke, Tristan, and Jack to look after the stateliness of the masts, impressing us with the magnificence of their erect…sorry, was having a Windflower moment there. Annie seems more the fun and carefree type to swing about a ship than board one, cutlass in her teeth.
After reading her amazing book, For the Sheikh's Pleasure, I begged her to come interview with us when her next book came out, and guess what? Her new book is out! Available right now is: The Greek Tycoon's Unexpected Wife, and if you haven't already discovered Annie West, you need to discover her now. Pure GOLD.
So please welcome: Annie West!
Annie: Thanks so much for inviting me to be here, Hellion. It's been lovely corresponding with you and I'm thrilled to be invited to your site. Fancy me being allowed into the pirate lair. Love it! I've always had a soft spot for buccaneers (as anyone who read my 'Sheikh's Ransomed Bride' will know) so I'm very excited.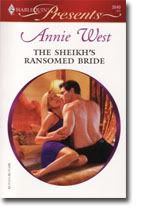 Hellion: Good! We're excited to have you on board too. I could probably spend the next hour talking about the magnificence of my ship and crew, but…well…I want to talk about you and your books. You write the most amazing Harlequin Presents novels. Your characters are so detailed, alive; and your plot derives from character development. How do you work within the 200-250 page "limit" but still able to make the characters so well developed, we fill like we've grown up with them? (I've read some 400 page books where the author wasn't able to do that!)
Annie: Hellion, you do know how to make a girl feel welcome, don't you? I could sit and lap up this praise all day!
I think getting the feel for my characters is an area where I've improved. My first (unpublished) books were fairly heavily plotted and I wrote in line with what I'd planned, moving the characters like dolls along preordained routes. (Important Note: there's nothing wrong with detailed plotting. If you write best like this, good on you!). Gradually though, I found that IF I had a good strong conflict between the hero and heroine, I could start writing with only a rough outline of what was going to happen. I'd jump into the opening (trying to choose a climactic moment of change) and ask myself several times a page 'what is he/she thinking/feeling'? By focusing on a major, emotional event, where the stakes are high, I see my characters under stress. Sometimes they'll respond to provocation in a certain way and I'll wonder why. I go back to the information I'd jotted down about them and factor it in. Sometimes I'll write an opening and that process of questioning why the character makes a stand or takes offence or runs away will throw up a whole new facet of their backstory, which then influences their later actions.
Having a good strong conflict helps enormously. If they both want something strongly, and that goal means the other character is definitely not the person they should hook up with, it makes the intensity so much stronger. Each needs to challenge the other in some way.
I write long then cut. When I revise I have to be ruthless, searching out paragraphs, sentences or even words that don't add value. I look for characters saying the same thing in different ways (which mine do early on while I'm still sorting out their motivation). I look for sections where the reading slows or there's little dialogue. By ripping out the nice, feel good stuff I enjoyed but which isn't high stakes emotion or a new point that drives the plot forward, I can make it a lot tighter. I also look closely at my secondary characters and my transition scenes. If it's not absolutely necessary (and you'd be surprised what isn't) then I take it out.
Hellion: Dang, you are fierce with a cutlass! Question everything and go for the biggest emotional impact (and payoff). You make it sound easy! How long have you been writing; and what's your Call Story?
Annie: I started writing about 12 years ago. Fortunately I found out about Romance Writers of Australia at the same time, so as I was writing my first book I was learning about submission processes and writing techniques. I found the support of other writers wonderful, plus I sold a couple of short stories which gave me hope that someone liked my writing. Finally I had a book accepted in 1999 by a small Aussie press. I was thrilled, overjoyed, ecstatic! The press closed the year after 'Strictly Business' came out due to distribution troubles. Then came the hardest part of all – feeling that I'd come close but not close enough. The editorial door was shut again. I tried writing for a few different lines and received very encouraging feedback, but never an acceptance. Eventually a kind editor spoke to me about my voice, which she enjoyed, and my writing, ditto, and the fact that neither fitted what they were seeking. As I'd tried all the publishers I thought would take my work, I was about to give up. My last fling was to write a book called 'The Mistress Makeover' for Harlequin Presents. I knew it wouldn't succeed (I didn't think I could write a good alpha hero) but after a writers' workshop with Emma Darcy and Miranda Lee I was so enthused I had to try. The feeling of writing that story was incredible. The words flowed and I felt as if I'd come home. I felt that story as I never had before. It was still hard work but it felt right. A chunk of it placed in a contest but the editor didn't request it. Nettled, I revised it again (I'd never revised so much) and sent it in to the slush pile. In early December 2005 I heard from Harlequin Mills and Boon that they wanted to buy it. I had to read the email 3 times before I believed it and I kept going back to the computer all day just to check I wasn't hallucinating. The book was published a year later as 'A Mistress for the Taking'.
Hellion: (You're going to do great a keynote-speaking, if you haven't been asked to do that yet. That's a keynote story if I ever heard one!) You write the most breathtaking emotion. Is that just something that comes naturally to you, or do you layer it in with each draft? How many drafts do you write?
Annie: Wow, thanks, Hellion. That's the loveliest compliment. Does it come naturally to me? It seems to but then maybe it's something that's developed over those long years of learning how to get a story down. The reason I've always loved a good romance (and a Presents story in particular) is that oomph of emotion – that physical whack of sensation in the solar plexus when you really feel for the characters and empathize with what's happening to them – the highs and especially the lows. Maybe knowing that, I've always focused hard on trying to build that into the book. Not that it's necessarily always easy, but it's always been a priority for me.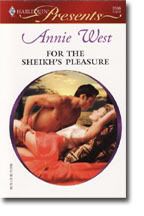 I tend to get as much of that emotion as I can onto the page as I write the first draft. Sometimes it works better than others, but I'd much rather try to do that from the beginning than write something sketchy and return later to add the feelings in. To me those emotions are so integral they actually drive the scene and I've lost track of the number of times I've intended to end a scene in a particular way, only to discover as I delve into the character's feelings and their reactions to what's happening, that something else entirely different (and much better) should happen. If I'd written a draft without that detail it wouldn't be the characters driving the story, it would be me following a pre-determined plotline without their input. (I know this makes it sound like the characters are real in my head but it's true). Attempting to include this emotional perspective from the start is also a great way to get to know your characters fast.
I do several drafts. I print off at least 3 versions for a complete read through, and some scenes get multiple makeovers. Later drafts have large chunks or chapters that are more or less untouched and other bits that have been reworked several times. If there's a pacing problem, for instance, then I'll hone in on that section and keep at it till I think it's right. Some sections mightn't change from the first draft. (I love those sections. There should be more of them).
Hellion: I wish I had more of those sections myself! *LOL* What is your new book (The Greek Tycoon's Unexpected Wife) about, and what did you love most about writing it?
Annie: Most of all I loved the intensity of this story. For me that just sizzled, and I hope I managed to get some of that on the page. The emotions were so strong they drove the plot right from the start, even when I wasn't sure what the plot was going to be. *grins* I was so excited when I first imagined Stavros and Tessa and the set up for this story. Stavros Denakis is a Greek tycoon with everything: wealth, power, status and a gorgeous fiancée. The night of his exclusive A-List party to celebrate his engagement he has an unexpected visitor – his wife. It was fun creating that appalling situation, then watching the fireworks go off! Stavros is used to getting his own way and he isn't amused. He suspects his long lost wife is there to make trouble and milk him for cash. He and Tessa had only been together for the shortest of times, and he believed her dead. Now he realises he doesn't know her at all. Tessa was great to write too, strong in a quiet, dignified way that makes him slowly rethink his attitude. To me they seemed to complement each other. The book is out now in North America as a mid month "Presents Extra" release.
Hellion: Awesome, I love the possible fireworks scenarios for that sort of scene! Hilarious! Stavros definitely sounds like a very broody, not to be thwarted hero. On your website, it says you always create "heroes who are always dark, brooding, demanding and extremely sexy" (of which I can concur!): have you always been in love with alphas? Who do you draw your inspiration from?
Annie: Ah, the quote from Penny Jordan. Isn't it a ripper? I was so thrilled when I read that I had to put it on the site.
I love romances with heroes that sweep me right off my feet. I'd never thought about whether they were alphas before I started writing. I've enjoyed boy-next-door stories and others where the hero, though fantastic, wasn't a really an alpha character, but there's something about a strong hero (and I'm not necessarily talking about muscles) that always works for me. Interestingly, I used to think I couldn't write an alpha hero (Anna Campbell, my crit partner, will remember me bemoaning the fact) till I tried my hand at it and loved it. What works best for me is a hero with a strong sense of honor, of right and wrong that he will abide by no matter what the cost to himself. That means my heroes aren't the sort to throw their weight around for the sake of it. They have an inner core of decency that I can rely on even if sometimes their understanding of a situation may make them do something they later regret (and boy do they regret it). And I love a heroine who can stand up to the most powerful man around and hold her own! An alpha can have a touch of danger about him which fascinates me, especially as you wonder whether he'll use the full force of that power to get what he wants.
Where do I get my inspiration? He laughs when I say it, but definitely my husband. Of course, I have to do a bit of additional research for my heroes – books and movies and fantastic leading men like Richard Armitage, Clive Owen and so on can definitely inspire. And, um, chocolate sometimes helps!
Hellion: Richard inspires us daily around here. Excellent research skills you have, Ms. West. *grins* Okay, now for a serious question: You're marooned on an island and can only have one. Who would it be: Will Turner, Jack Sparrow or James Norrington?
Annie: All three! Oh dear, that makes me sound awful, doesn't it? But I refuse to have just one. They all have something going for them. Don't you think? Jack Sparrow has the presence, the panache, the bad boy charisma and he'd be a hoot to share a bottle of rum with. I might die of dehydration but I'd be laughing as I did. James Norrington – well I've always had a soft spot for the honorable, serious hidebound hero in hopes of uncovering the less straight-laced man beneath. Will Turner has grown on me. Between you and me I found him a little to, er, young for my taste but he matured beautifully and I love his absolute determination and jump-in-boots-and-all approach to life.
Hellion: *laughing* You're definitely a pirate to take all three! And great justification for such greediness as well! Can you tell us what is coming out next for you?
Annie: Next is the 'The Desert King's Pregnant Bride'. It's available in the UK in October, Australia/New Zealand in November and hopefully in North America soon after that (I'm waiting to hear). It's about an ordinary, hardworking girl who works in a racing stable (I had fun researching that) who falls for an Arab prince with a difference. Khalid is scarred by his past but determined to do the right thing by the woman who is carrying his child. He's strong, determined, honorable and not looking for love. It's a marriage of convenience story…with a few twists.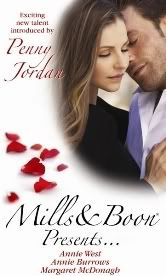 Hellion: Being you totally won me over with Sheikhs with the book you sent to me, I know this is going to be another winner. Plus, hello, horses. Okay, last question, then the crew can fire away. You and Anna Campbell (veteran Pirate) are good friends. Just what is a typical day with the two of you like when you get together?
Annie: Noisy! Anna, are you there? I'm smiling just thinking about us having a day together. Anna and I don't live near each other so getting together is a real treat. A typical day would be talking too much, eating too much and washing it all down with something tasty. We wake early and chat while still in our PJs, which is brilliant. Sometimes breakfast and getting dressed don't happen for hours or breakfast will turn into lunch. Often there's critiquing, during which time Anna is positively dangerous (she's been known to wave a cutlass at me when excited). We talk about plots or treat ourselves to an outing. Often we'll end up people watching or window shopping (including looking in exclusive stores for stunning shoes for my heroine who'd landed herself a role as a rich man's mistress). One of the best things about our days together is our tradition of great waterfront (of course) lunches. Before our 'big breaks' we promised ourselves a harbourside lunch to celebrate the acceptance of each new book. I pictured us giggling as we spoke about our books. Now we get to do it for real, not just imagine it!
Hellion: Thank you, Annie, you've been a wonderful interviewee! Okay, crew, fire away! What questions have you for Mad Annie Mizzenmast…er, I mean, the incomparable Annie West?