Monday, April 14, 2008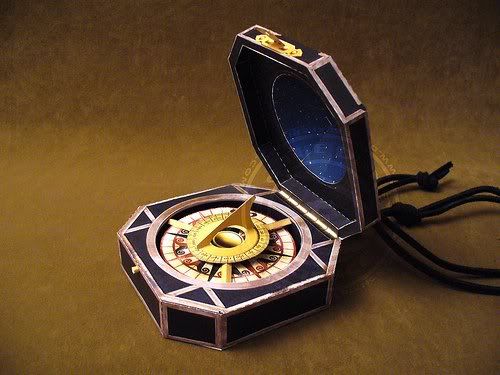 'Ello me hearty mates and crew. Today we're going to do a little elementary compass navigation and orientation. (No, Jack my love, not sexual orientation; you are prickly. And no, Sin, I'm not dumping anyone off into the middle of the woods and saying, "Well, see you at supper!" and then giving you a merit badge if you arrive back without being covered in poison ivy.)
No, I speak of: Writing Orientation. How to get your bearings in your book, head off again in the right direction (i.e. start writing again) and arrive at your destination (i.e. HEA) sometime before your supplies (i.e. the rum) run out. A handy device all pirates need if they find themselves marooned…or possibly in a hurricane in which they think their ship is going to sink.
First and most important, find due NORTH. You won't get your bearings or headings or anything until you've got your center. Your due NORTH is two things: characters and goals. So if you're ever stuck, flailing about, sitting in Doldrums and wondering if a brisk wind will come again, find due NORTH. Remember where you are going and put it in contrast with where you are now. Just like NORTH is the most important of the four, your characters and their goals are the most important part of your story. They are the story. Are your characters still behaving true to themselves? Are they pursuing their goals for all they're worth? Like NORTH, are they bigger and bolder than everything else (i.e. plot, secondary characters)? Are you keeping your scenes (like your sails) trim? If the scenes you're putting on the page aren't necessary to the characters or the goals, then they're most likely dross that's weighing down your ship and sailing you the long way to China.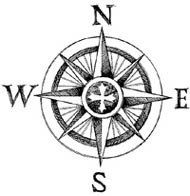 Once you've got NORTH, glance behind you to the SOUTH. Notice this. There is no North without South, no love without hate, no peace without war, no romance without heartbreak. Here in the SOUTH lies conflict and irony. While your NORTH is focusing on character and goals, the SOUTH should be raising hell on the NORTH, making everyone wonder which side is going to win. (Am I the only one hearing "Dixie"?) Conflict keeps your characters and their goals in sharp desire. And while you're at it, make sure some of your conflict is of the ironic variety. If your heroine hates class reunions and hell would freeze over before she attended one, make her go to accomplish something that is very important to her, more important than her fear and hatred of confronting her demons. Irony sticks. Irony is conflict inflicted by method of laughing gas.
So we got the NORTH and SOUTH opposing each other; take a look over your right shoulder to the EAST. Venus the Morningstar is your guide. So our next important bearing: Love. Love is important since you need conflict for your Conflict, and nothing conflicts Conflict more than Love. (One of those ironic things again.) Clearly if you're writing a romance, love is a main bearing. Make it big, make it count, and make it believable. We all need the Big 3: Faith, Hope, and Love, but most of all Love. John said it first; then the other John made a song about it. Notice, though, Love is not the sole focus of your story, nor the biggest focus—but it does shine the brightest.
Now look WEST, young man, look WEST. What good is the WEST? Why the ending, of course. We all admire the perfect sunset, and though it may be the same sun, no two are the same. The same is true of your happily ever after. Yes, it's romance; yes, it's a happy ending; yes, there are a 100 Regencies published a year—but your Happily Ever After is just as beautiful, just as unique as the thousand other sunsets across the world. Someone will enjoy seeing it; someone will be moved by it; someone will even remember it forever. And the thing about sunsets is you never get tired of seeing them and marveling at how beautiful they are—and how at peace with the world they make us feel. Write your happy ending; do it to make the world a little sweeter.
All right. Got your bearings now? Have you found your characters and goals? Is the SOUTH rising again? (Lisa, Sin, get your minds out of the gutter.) Have you put on that Beatles CD and a little song in your heart? Then start cracking toward that Happy Ending, mates. Head West to your destination.
What do you guys think? Any important headings I should have focused on instead? Anyone else dallied in filing their taxes like I did and are running to the post office after work like a chicken with its head cut off? Anyone else able to orientate themselves with a compass? (Me, I use the sun rather than magnets.)