Wednesday, April 30, 2008
9:00 PM
|
Posted by Marnee Bailey
|
|
Edit Post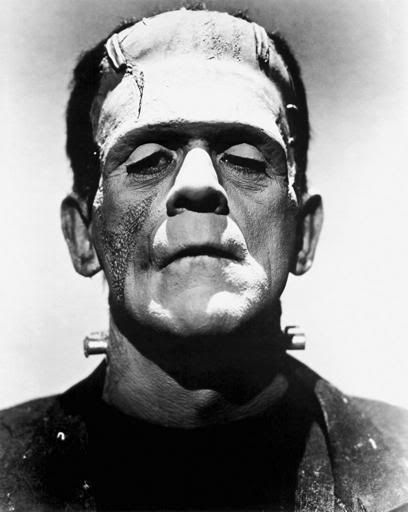 One of the things I love about writing is that it makes me the queen.  I rule over my realm of created characters and fictional situations, equal parts merciful and merciless.  If my characters act up, I can push them around in the manner of Bill Cosby in Himself:  "You know, I brought you in this world, and I can take you out. And it don't make no difference to me, I'll make another one look just like you."
Ah…  it's good to be the queen.
When I added paranormal twists to my plot, I started to feel less like the monarch of my own little kingdom and more like Dr. Frankenstein.  Before I knew it I was creating characters that were amalgamations of historical uptight misses and butt-kicking witches. 
I debated introducing paranormal elements into my WIP for quite a while before I gave in.  I admit that part of the reason I had such an internal debate was the sheer work involved.  I mean, I already had all of the Regency research to contend with.  And, as mentioned in my blog of a couple weeks ago, I still have a ways to go with that.   Now I would have to define the limitations of my witches.  What can they do and what can't they do?  Can they cast spells?  Can they create potions?  If not, why not?   Can they use their magic whenever or are there rules?  What rules?
I also had to think about how these powers will change my heroine's outlook on the world.  Would she be timid, afraid of having others discover her secret?  Would she be stronger than the average Regency miss because of her powers?  Probably both, I think.  So how does all that play out when it interacts together?
Yeah, beats me too.
But, this week I started thinking that maybe I would have to do this sort of world building no matter what genre or time period I wrote in.  We all have to figure out how our character's personality traits interact together and how that interaction then interacts with the "real world."  It's a matter of answering all the questions, all the hows and whys and what ifs, that makes the world we create the rich place our readers will want to live in for a few hours.
I guess the price of being queen is that I have to be Dr. Frankenstein sometimes too.  I think I can handle that.
What questions have you found the hardest to answer in the course of your world building?   What questions or obstacles to world building do you think are unique to your subgenre?