Monday, March 24, 2008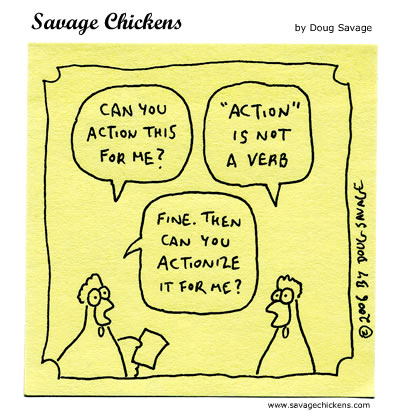 There are some real disadvantages to living on a pirate ship. Other than that sex in a swinging hammock thing not being all that easy, I'd say the lack of electrical outlets is the biggest hassle. Since we can read and write by candlelight, it's not the end of the world. But listening to audio devices gets a little complicated.
That's why when I take my little road trips away from the ship, I almost always listen to an audiobook. And this weekend was no different. I've listened to three audiobooks so far this year and I have the same problem with all of them. The way the person reads the story is not the same way I would read it. It throws me off and, I believe, ruins the experience of the book for me.
It comes down to inflection. By putting the emphasis on the wrong word, the narrator can change the meaning of the entire sentence. Something that should have been a demand may come across as pleading. Sarcasm can be lost completely and we won't even go into the timing required for comedy.
Since I'm the example queen, I'm going to give an example. I know, big shocker. Anyway, lets choose something simple. I'm going to type out one line of dialog and bold the words I want emphasized. Now, obviously, it's hard to do this stuff out of context but since we're talking about reading this line aloud, I think this can work.
"If I
wanted
her, I'd
have
her."
With the emphasis on "wanted" and "have", this is a bold statement most likely of challenge. You can see the character saying it with eyes narrowed and jaw clenched. But what if I change it just a bit?
"If I wanted
her
, I'd have
her
."
This is much more insulting than challenging and meant to put the other character in his/her place. The speaking character is trying to make a point, defend himself or getting tired of arguing. Maybe by now you've figured out the dilemma.
We can't go through out books making bold all the words we want emphasized. This is where action tags play a key roll. Action tags are often thought of as throw away bits. Just two or three words to make sure the reader knows who is speaking. But they can do so much more.
"If I wanted her, I'd have her," he growled, never blinking.
Or
"If I wanted her, I'd have her," he roared, throwing his hands in the air.

Now there is no mistaking how I want these lines to be interpreted. Even the simple change of the word "growled" to "roared" can change the context and meaning.
As you write, do you use action tags to their full advantage? Do you ever wonder if what the reader hears in her mind is what you intended with your words? Do you think I'm totally full of crap and have figured out that I had no idea what to write about today? And have you ever listened to an audiobook and wished you'd read it instead?